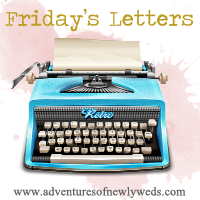 Dear Andy- Thank you for the past four years of marriage. You have made every minute worth it! Love you more than words can say! Also, thank you for my fabulous new Toms-they are perfect!
Dear third graders- you all are making me love my job again. Seriously, you guys are so polite and sweet. One  little girl said the sweetest thing to me yesterday- "Mrs. M, I just had to tell you that you are so beautiful!" Melts my heart!
Dear Starbucks- I have been waiting months for a pumpkin spice latte. I can not wait to enjoy one this morning! My taste buds thank you, my wallet not so much!
Dear Heather- Happy birthday! Hope you have a wonderful day!
Dear readers- Thank you for reading my blog! I know some of you read but don't comment. Come our of lurking and say hello!
Dear knee- Please tell me the pain you gave after my long run earlier this week was just a flute! I already sent my registration in for the half. I need you to work with me here!