Trying something new and linking up for Friday Letters.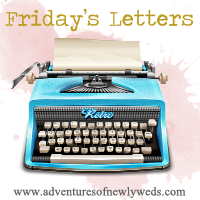 Dear running shoes: oh how I've missed you! I will be wearing you again this Saturday for a fun 4 mile race. But other than that I am on strict orders to take a 2 week break
Dear chiropractor: thank you for figuring out my knee/hip pain issues. The stretches are working! Also, thanks for the one day pass to run in the race this weekend.
Dear Groupon: seriously where have all the good deals gone? I have credit to spend but I do not want to buy a soccer camp pass, magazine subscription, or an iphone bottle opener. Give me the good salon,  fitness, clothing deals like you used to have!
Dear blog: I am sorry I have neglected you this summer. I've been too busy soaking up the sun!
Dear freelancing agency:  Thank you for contacting me with so many jobs. I love the extra cash and freelancing reminds me why I love interpreting. All these jobs are what I've been needing to get me out of my funk.
Dear readers: Thanks for reading, be sure to leave comments to let me know what you think about my posts. Comments help me connect with readers and know what to continue to post about!
Dear husband: I am happy you took the afternoon off today. Let's do something fun today-pool & lunch?
Dear Verizon: Your new share everything plan is a joke! So glad we got our upgrades before this went into effect & got to keep our unlimited data! I can not wait to get my new Samsung Galaxy III in just 12 days!
Dear Kenny Chesney: I will see you in 2 days and I CANNOT wait! It has been way too long since our last get together. I've had these tickets since December so needless to say it has been a long wait!