I took a short blog hiatus. I wasn't feeling too inspired with the GORGEOUS weather we were having
I have thought of all kinds of things to blog about (including my 2nd half marathon-which I will post about as soon as I get photos!), but first lets move on to the topic of today: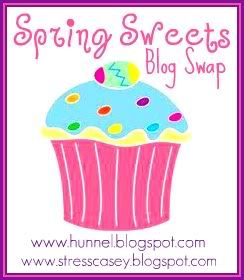 I love blog swaps, maybe a little too much, but it's fun and exciting to 'meet' new people this way. One I saw Casey was hosting swap all about spring sweets I knew I had to sign up for this one! I was paired up with Kristin. She lives in Alaska but is originally from PA which is just one state over from me.  She posts some really delicious recipes (like this cookie shake I.must.try! Oh, and these breadsticks!) 
Kristin was so sweet to send me all of this:
I must have been living under a rock because I have never seen Reese's Piece's eggs. I LOVE Reese's! Also she through in some caramel eggs and Hershey's dark eggs (perfect to throw in my lunch bag!). It didn't take long for me to fill my candy bowl:
Thank you so much Kristin! I love all the sweets! Also thanks for Casey for setting the swap up! I'm looking forward to seeing what everyone got! 
Happy first day of spring!